【专题论坛】When Women in Localization Meets CTPF
2017-04-08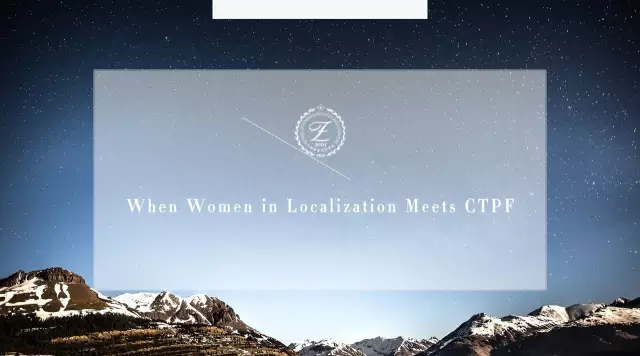 Women in Localization was founded in 2008 and is the leading professional organization for women in the localization industry. Started in the San Francisco Bay Area, it is now a global organization with chapters throughout Asia, Europe and the Americas. Its mission is to foster a global community for the advancement of women and the localization industry. Through many events, for which speakers are hand-selected based on their knowledge and skills, Women in Localization promotes some of the latest innovations in the localization space. Women in Localization will come to Beijing again as the pre-conference of the 9th China Translation Profession Forum (CTPF). When it meets CTPF, what new ideas will be sparked? Come and listen to Anna Schlegel, co-founder of Women in Localization speak about her journey from translator to co-founding Women in Localization, to being a Sr. Director of Global Engineering, and being awarded the Women to Watch for in STEM in 2017.


Beijing, 21st April 2017
Beijing Normal University
PPT + open discussion
Welcome and Introductions, WiL mentoring services
--Presenter: Jie Li (Alpha CRC, WiL China Chapter Manager)
Where is the localization industry going in the next 10 years, What are the skills that professionals need to keep up with the changes?
--Presenter: Mimi Hills (VMware, Inc)
Career in Localization
Localization job markets in APAC (challenges and opportunities)

Present and future trends in the localization job market

How to boost one's international career in localization.
--Presenter: Costanza Marinelli, (Larsen Globalization Ltd.)
Balancing Translation Time and Accuracy for Video Content
--Presenter: Xiao Yuan (Pactera Technology Ltd.)
Jie Li, Country Manager at Alpha CRC Ltd., WiL China
Jie Li holds degrees in translation and international business. She has been in localization for 10 years, first five years at Alpha CRC Cambridge HQ and the second five in Shanghai, China, where she set up the company China office and leads a full localization production team. Over the past 5 years, she has helped the company enter China market and managed to develop renowned local clients. In addition, she works closely with the clients to explore new trends of the industry. Jie currently acts as the China Chapter Manager for Women in Localization.
Mimi Hills, Director, Product Globalization at VMware, Inc., WiL California
Mimi Hills is director, product globalization at VMware, Inc., and has held similar positions at BlackBerry and Sun Microsystems. She's led teams from 18 to 180 people in localization and internationalization and likes to leave her door open for collaboration. Mimi has a special interest in tools and technology, and finding the right solution for problems waiting to be solved. She comes from the software world with a background in project and engineering management. Mimi is active in the localization industry and is a passionate advocate for the non-English speaking user.
Costanza Marinelli, APAC Recruitment Manager at Larsen Globalization Ltd., WiL Japan
Costanza Marinelli has a translation diploma, a political science degree, diplomatic studies from the University of Florence and an MBA from the Open University of Milton Keynes (UK). Currently based in Tokyo, Costanza has 20 years of experience in localization project management for Medtronic, international human resources for Mallinckrodt Medical, market research for Sémaphore Conseil and recruitment in the localization industry for Larsen Globalization, first in Europe and in the Asia-Pacific region since the end of 2013.
Xiao Yuan, Account Manager at Pactera Technology Ltd.
Xiao Yuan is an account manager at Pactera Technology Limited. She has worked for Pactera for 5 years after graduating from University of Science and Technology of Beijing in 2011. Collaborating with sales and delivery teams across Pactera's global offices, she currently focuses on one-stop language solution sales. Her goal is to connect potential customers to Pacerta's world-class globalization and localization services. Over the past few years, she has successfully helped large businesses in minimizing the time-to-market and maximizing their global share.
Register Soon !
or
---
免责声明:标题图来自网络,版权归原作者所有

如有侵权请联系小编